By: The Food Hunter
If you were to ask me to name a favorite cake; one that evokes found memories of my childhood, the one that most unfailingly fulfills this request, would be NY style crumb cake. Growing up on the east coast we ate a lot of this soft sturdy cake with its thick sweet crumb topping.
As an adult, living now on the west coast, I am always on the hunt for a delicious crumb cake. As you can imagine finding just the right cake is important. Melissa Clark, the mastermind behind some of the New York Time's most viral recipes, has pulled together a super easy and fantastic recipe for the beloved crumb cake and I'm so excited to share it with you today!
Melissa's version of the NY crumb cake, has a ginger and almond infused crumb topping and a layer of caramelized fruit on top of the cake making it even more delicious than the crumb cake I remember eating as a child. The original recipe features slices of pineapple but Melissa assured me that peaches, pears or apples would be equally yummy.
What is NY Style Crumb Cake
Let's start with the basics. A classic New York-style crumb cake is a thick sour cream cake topped with a generous layer of homemade cinnamon sugar crumbs. It's sweeter and much more dense than a coffee cake yet is equally delicious and versatile. Crumb cakes are served for breakfast, brunch, dessert or as a late-night snack. Once you master the basic recipe there are many variations that you can do to spice it up even further.
Why You Will Love Melissa Clark's Recipe
This recipe is without a doubt one of the most delectable desserts you will ever taste and it is easy to make. Melissa Clark says "anyone who is comfortable baking, say, muffins can easily make this cake". A few things that set it apart from other crumb cakes include:
The caramelized fruit offers an extra surprise layer.
There's generous layer of scrumptious crumbs that have a subtle ginger/almond taste. It really is all about the crumb.
It's a simple, trustworthy cake that requires minimal ingredients and gear.
Peach Ginger Crumb Cake

Ingredients Needed
For the Crumb Topping and Peaches:
1 1/2 tbsp unsalted butter, plus more for greasing the pan
1 1/2 cups fresh peaches, diced into 1/2-inch pieces
1 1/2 tbsp dark brown sugar
1/8 tsp ground allspice
Pinch of salt
1 1/4 cups all-purpose flour
1/2 cup dark brown sugar
3 tbsp coarsely chopped almonds or other nuts
2 tbsp finely chopped candied ginger
1/4 tsp ground cinnamon
1/4 tsp salt
1/2 cup unsalted butter, melted and cooled
For the Cake:
1 1/2 cups all-purpose flour
1 1/2 tsp baking powder
1/2 tsp baking soda
1/2 tsp salt
1/2 cup unsalted butter, softened
1/2 cup sugar
2 large eggs
1 tbsp vanilla extract
1/2 cup sour cream
How to Make Peach Ginger Crumb Cake
1. Heat oven to 350 degrees. Butter a 9-inch spring form pan, a 9-by-2-inch round cake pan or a 9-inch square metal pan. Line the bottom of the pan with parchment paper and butter the paper. Cut Peaches into small pieces.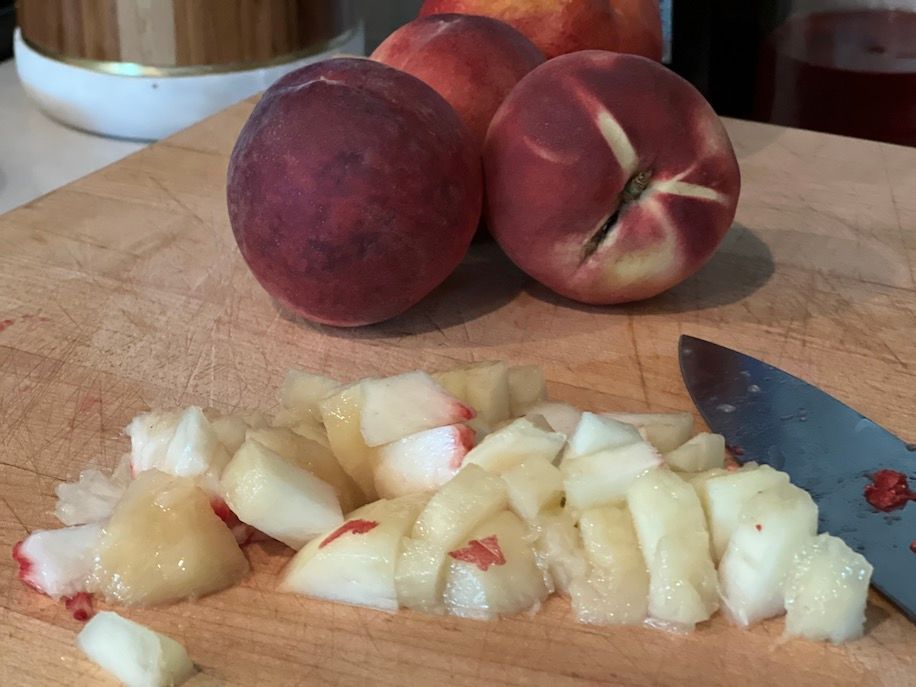 2. Prepare the pineapple: In a skillet, melt butter over medium-high heat. Add pineapple, brown sugar, allspice and salt, and saute until pineapple chunks are glossy and lightly browned in spots, 7 to 15 minutes. Set aside to cool.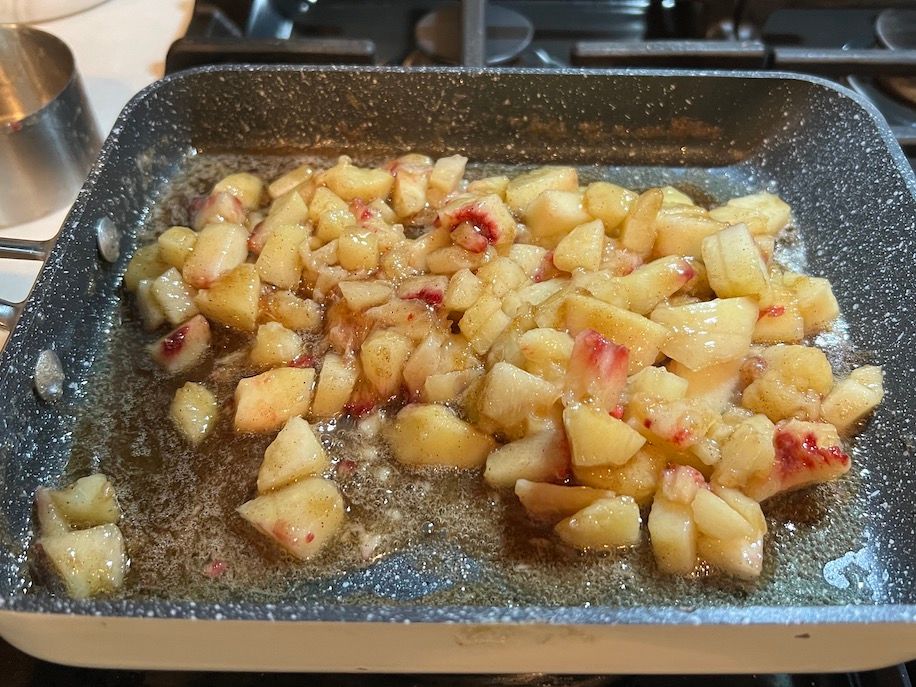 3. Make the crumb topping: In a medium bowl, whisk together flour, brown sugar, almonds, candied ginger, ground ginger, cinnamon and salt. Stir in melted butter, pinching the mixture with your fingers, until 1/2-inch crumbs form. Set aside.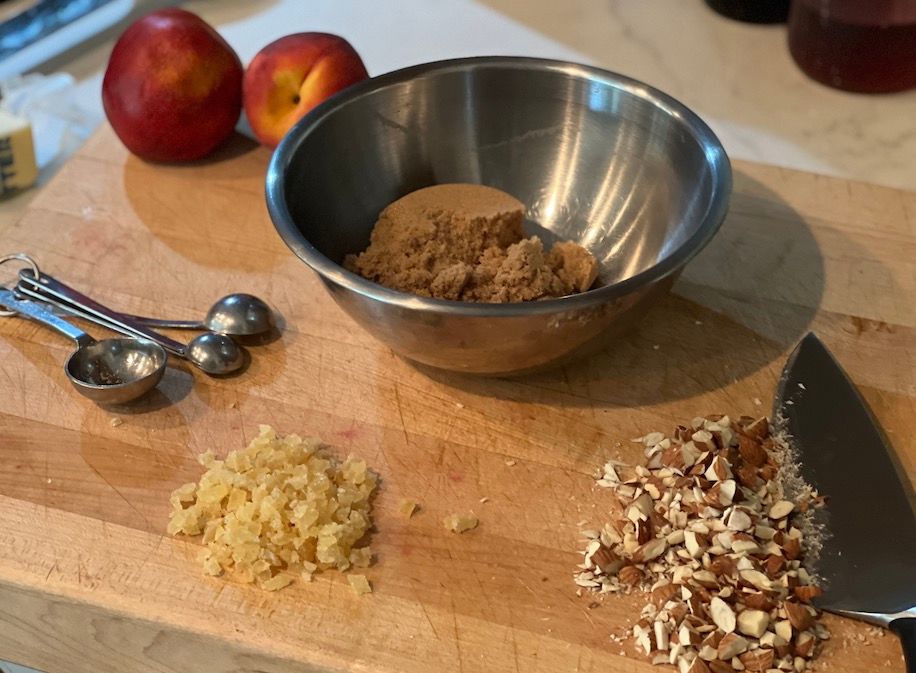 4. Make the cake: In a medium bowl, whisk together flour, baking powder, baking soda and salt.
5. Using an electric mixer fitted with the paddle attachment or a handheld electric mixer and a large bowl, beat butter and sugar at medium speed until creamy and smooth, about 2 minutes. Beat in eggs, one at a time, until incorporated, then beat in rum and lime zest. Scrape the sides of the bowl with a rubber spatula.
6. On low speed, beat in half of the flour mixture until smooth, then beat in the sour cream, scraping down the sides of the bowl as needed. Beat in remaining flour just until incorporated.
7. Scrape batter into prepared pan. Scatter cooled pineapple evenly across the surface of the cake.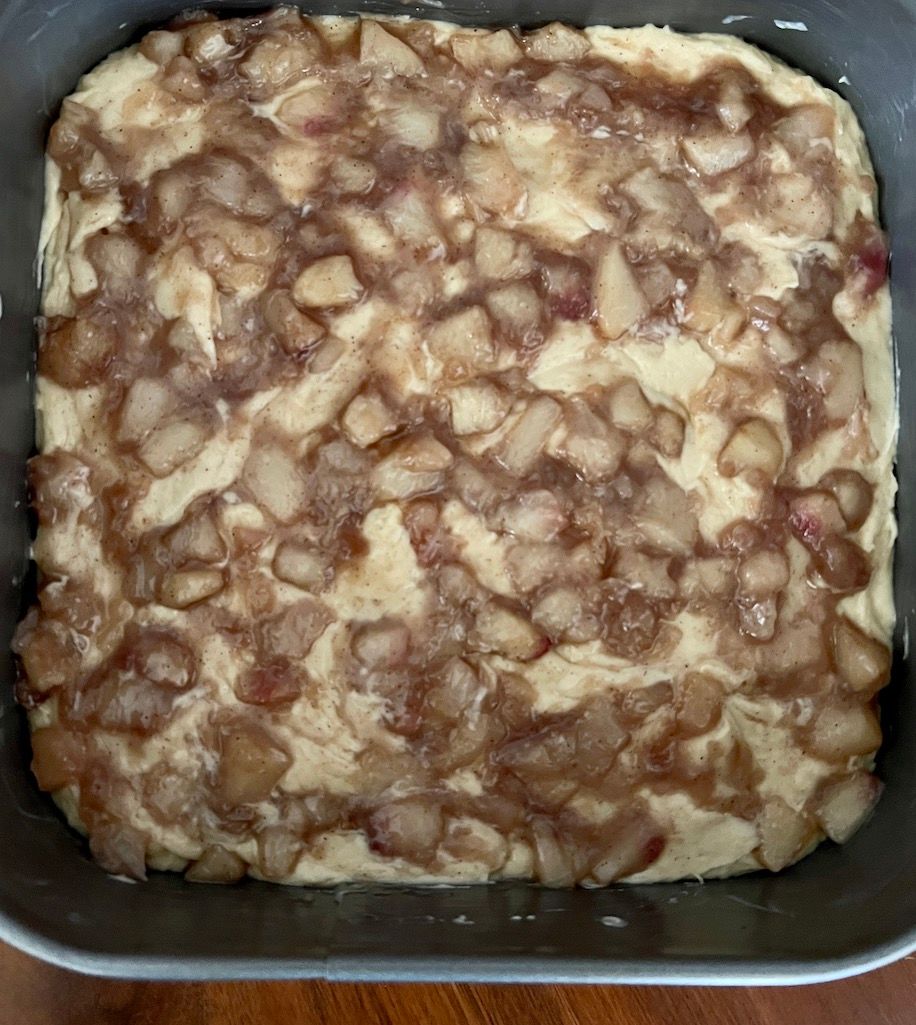 8. Top with ginger crumb mixture.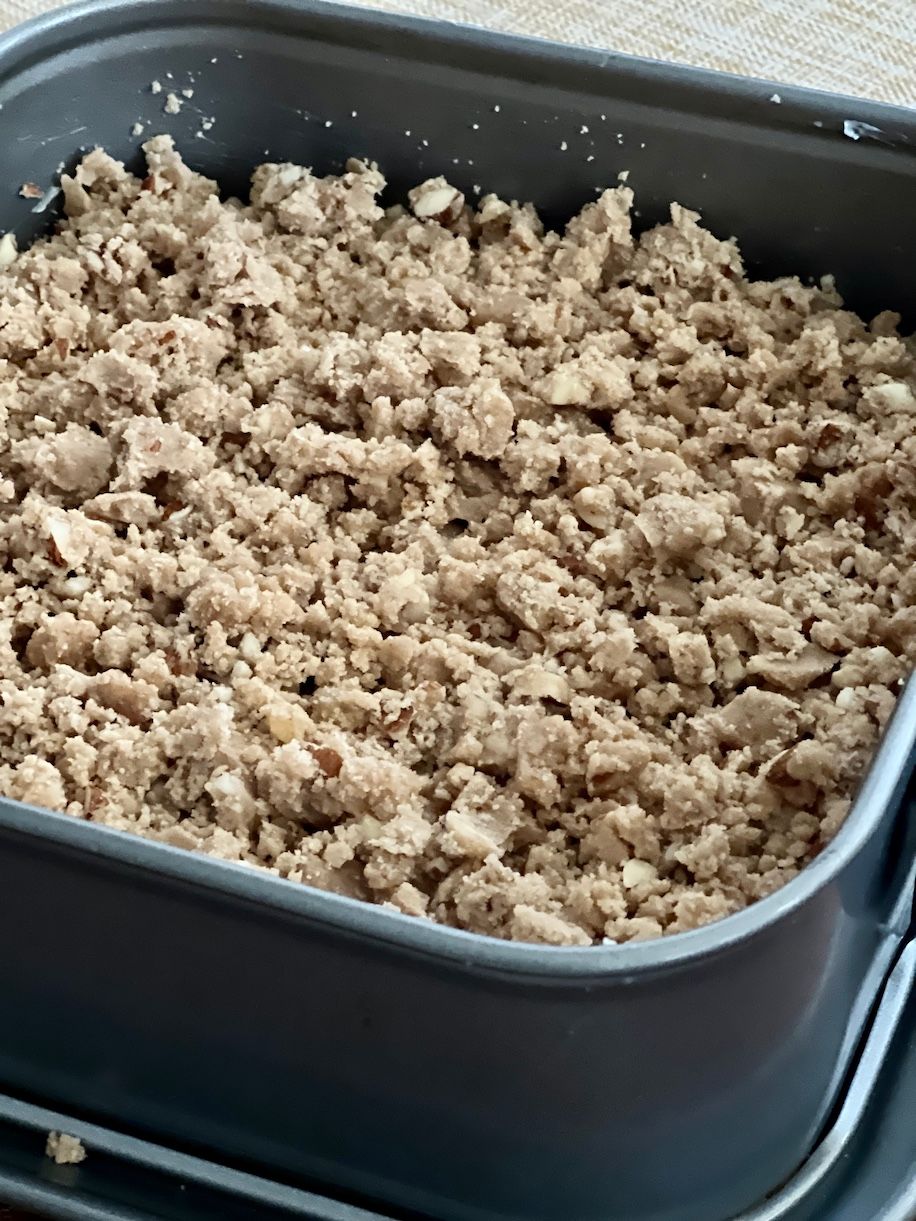 9. Bake until the center of the cake springs back when lightly touched and a toothpick inserted in the center comes out with just a few crumbs, 45 to 60 minutes. Transfer to a wire rack to cool before serving.
The Key to Delicious Crumb Cake
The key to a making this crumb cake is the extra ingredients in the crumb topping. This recipe calls for crushed candied ginger and almond pieces which really sets the topping apart from others I've tried.
What to Drink with Crumb Cake
A nice cold glass of milk or a steamy hot mug of coffee would be the most common things to drink with crumb cake. However I enjoy eating this with a coffee liqueur, such as Cafe Borghetti.
What to Bake Next